Bruce Arians Talks "Bad Decisions"
October 22nd, 2019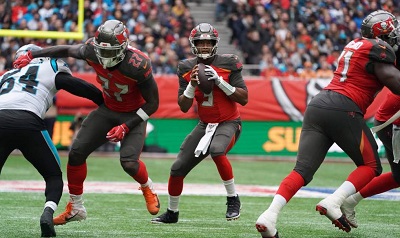 What's it going to take for Jameis Winston to stop giving the football away like it's a single-serving Almond Joy on Halloween?
No veteran QB is better at epic turnover meltdowns– and still plays regularly.
Joe remains hopeful that America's Quarterback will start protecting the football well. But after 60 starts, Joe realizes that's just a lot of hope.
When Bucco Bruce Arians talked yesterday to WFLA-TV sports czar Dan Lucas, the head coach seemed to say Jameis needs work on basic mental fundamentals.
"It's knowing why the ball is coming out of your hand and knowing when to get rid of it," Arians said when asked about keeping Jameis confident. "You know, we had a screen pass to [Ronald Jones in England] that broke down; throw it away, alright. We end up getting a fumble; we didn't lose that fumble. The next one, [Jameis is thinking] I have to make a play. Those situations we have to get rid of the bad decisions of when 'I have to make a play,' and you hold on too long and get a sack or a fumble. Just get rid of those plays, we're going to be alright."
Quarterback whisperer Arians is running out of time for a 2019 playoff run. The Bucs have a load of issues, but Arians arrived in Tampa with a clear priority: get the most out of Jameis.
It's not happening and it simply has to happen in a hurry for so many reasons. If Arians can get Jameis playing consistent football through the final 10 games, then a lot will have been accomplished this season, even if the final record doesn't reflect that.