Arians Explains How Third Down Is A Weakness
October 22nd, 2019
Yes, our beloved 2-4 Tampa Bay Buccaneers have weaknesses.
And there's a glaring weakness that head coach Bucco Bruce Arians talked about yesterday.
It's called third down.
Arians told WFLA-TV sports chief Dan Lucas that self-scouting during the bye week revealed just how incredibly great the Bucs' run defense has been, though the entire club is struggling on the money down.
"We can build off that [run defense]. But we have to do a better job on third down of getting off the field," Arians said. "Same thing offensively, our first and second-down run is pretty solid. But third down conversions, of all things, 3rd-and-short is one of our weaknesses and it should be the easiest one — 3rd-and-long we're one of the best in the league. … It's an area now with 10 games to go we should really focus on."
There's no easy road to fixing the offense's third-down issues against Tennessee on Sunday, Arians added. "Mike Vrabel does a fantastic job defensively of creating a lot of confusion, especially on third down. So it's going to be a big, big challenge for us."
On the surface, it sure seems relatively easy to fix offensive troubles on 3rd-and-short. Something to keep an eye on Sunday.
---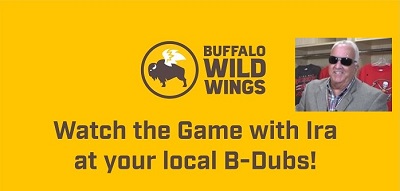 Fun time ahead. Watch Sunday's Bucs-Titans game at Buffalo Wild Wings with Ira Kaufman at 10500 Ulmerton Rd., Largo.
Arrive early and hang with Ira and soak up his wisdom during the game.