Arians Identifies A Fix For His Secondary
October 22nd, 2019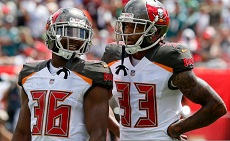 Speaking passionately yesterday, Bucco Bruce Arians acknowledged his struggling pass defense and called out a simple fix, one that has Joe eagerly awaiting his next trip to Abe's Place for a half gallon of the coldest draft beer in the Tampa Bay area.
What is a cornerback's dream? One would think it's having coach who the majority of the time asks you to play an attacking style of man coverage.
You know, get up on your receiver immediately and cover him like your life is on the line. But Bucs cornerbacks, per Arians, haven't responded well to that edict.
"Just be more physical," Arians told WFLA-TV, "You know, we play a lot of man-to-man. So we're 1-on-1. So if our pass rush is not getting there, you gotta cover your guy. You know, again, we played a couple of poor decisions on crossing routes [in London] where we went underneath and got thrown over the top because we were going for interceptions. But overall, just be more physical at the point of attack."
In the quote above, when Arians said "you gotta cover your guy," he chuckled. Joe's glad Arians is able to maintain a smile in the face of the Bucs' poor secondary play. Joe does not want to see Arians' health deteriorate quickly because of the unwatchable Bucs pass defense.
Sunday is a perfect day to get the cornerbacks on track against Ryan Tannehill and a Titans receiving corps that won't be winning any postseason honors.
"You gotta cover your guy." Well said, Coach.