Bruce Arians Talks About "Lacking" Leadership
October 24th, 2019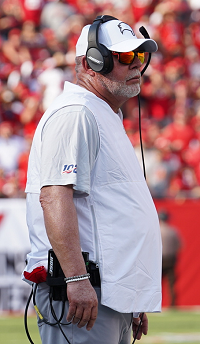 Here's another Buccaneers red flag when it comes to the state of the team, via the mouth of Bucco Bruce Arians.
Joe's been having trouble keeping up with all of them lately.
(And Joe's got more later.)
Yesterday, Arians raved about Jason Pierre-Paul's leadership at his news conference. But afterwards on SiriusXM NFL Radio, Arians said of JPP's call-you-out leadership style: "That's one thing we've really missed."
Considering Arians approved the entire roster, why is he missing what he considers key leadership?
Whose fault is that?
Arians went out of his way to ask Jameis Winston to stop trying to lead the team in ways other than setting a good example and playing his position well. General manager Jason Licht even publicly celebrated the new Jameis, the guy who would no longer be the rah-rah, emotional force Licht cheered and adored during Jameis' early years on the roster. So Jameis wasn't going to be that guy this season.
But what about the rest of the roster? We heard Devin White would be that guy. If this vocal, in-your-face leadership was lacking and so needed, couldn't Arians have asked one of his veterans to step out of themselves and into that role?
Or how about the coach(es) just make up the alleged leadership/accountability void and bench players who screw up too often?
Joe has often written that leadership from players is overblown. Sure, it is effective in spots, but it is definitely very limited in what it can accomplish. Now leadership from coaching is a different animal. That's far more powerful, in part because strong can coaching can manufacture/empower leadership from players.
"His biggest tool is he will call you out. He takes no prisoners, he doesn't discriminate and he leads by example. … He always has your back and he is just a realist. He is a realist with you."" Arians said of JPP's leadership.
That sounds great, but again, if it really was that important, then the Bucs should have had at least one guy on the roster able to communicate like JPP. Regardless, what good did JPP's leadership do for the 2018 Bucs defense?