Arians Issues A Fresh Comparison Of His 2-5 Bucs To His Winning Cardinals
October 31st, 2019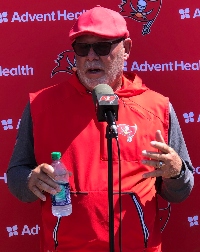 After Bucco Bruce Arians finished his intensive physical exam at a Tampa hospital and hours later took the Buccaneers gig, he then spent a lot of time studying his roster.
Arians liked what he saw and made it very clear multiple times to various media; the Bucs' turnaround job would be no more difficult and perhaps easier than what he did in Arizona, when he grabbed the top job there in 2013.
Those 2013 Cardinals came off a 5-11 season, just like the Bucs, and they were gritty and physical. They were 10-5 heading into the 2013 season finale against a powerful 49ers team that would reach the NFC title game. Arizona spotted San Francisco a 17-0 lead before dropping a 23-20 decision on a last-second field goal.
Now seven games into his Bucs career, Arians is sitting with a 2-5 record and with the first three-game, regular-season losing streak of his NFL head coaching career.
In a conference call this week documented by the Seattle Times, Arians was asked how close are his Bucs and the franchise are to reaching what he had in Arizona?
"In Arizona, we were way behind offensively, especially with the offensive line, and we were probably ahead defensively; we had Patrick Peterson, Daryl Washington, Calais Campbell, Darnell Dockett, some of those guys," he said. "So, the defense was further ahead than where we're at right now. I think Carson Palmer solidified that locker room for us. Jameis (Winston) is still learning it. There are a lot of similarities."
There's that locker room talk again from Arians, and this time it references the critical role his old QB played. But it Tampa, the preseason message to Jameis Winston was stop trying to lead and stop turning the ball over. Unfortunately, only one message got through — the one that shouldn't have been delivered.
Arians is right, that Cardinals defense carried the team early and through the season, which they ended on a 6-2 run. They were the No. 1-ranked run defense (sound familiar?) but they played the pass well and allowed just 20 points per game while the offense came on strong in the second half of the season.
Hopefully, Arians is correct when it comes to similarities of the teams. Sunday in Seattle will be a great test.