Will Arians Accountability Apply To Matt Gay?
September 22nd, 2019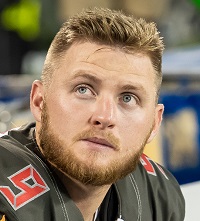 Matt Gay is a bad NFL kicker.
He's three games in and he just lost the Bucs a football game and nearly was a goat in Week 2.
Cutting him now is too harsh, but Joe certainly hopes the team works out kickers this week and puts a kicker-in-waiting on the practice squad.
We've all seen this dance before and it's time to stop coddling mentally weak kickers like the Bucs did with Roberto Aguayo, and then waiting too long to cut Chandler Catanzaro, etc. (So sad that there actually is an "etcetera.")
Bucco Bruce Arians talks about accountability being a key part of his program. Well, there's no accountability if nothing is addressed in the kicking situation.
"Just didn't hit it clean. I got to make that every single time," Gay said of his last-second miss.
It would be one thing if Gay only missed the last one, but he flubbed an extra point and then had one blocked. Perhaps his trajectory was off on the block, perhaps it was more on the offensive line.
Regardless, this team just doesn't know how to scout kickers. And that's on Jason Licht and Bucco Bruce Arians.