Giants 32, Buccaneers 31
September 22nd, 2019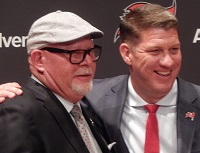 Embarrassment rules the day in Tampa.
Head to Publix and ask for a paper bag.
The Bucs just crapped all over themselves against a bad Giants team with a rookie making his first NFL start.
Anyone still think Todd Bowles is a great defensive coordinator?
Jason Licht and Bucco Bruce Arians should feel ashamed.
Yes, our beloved Buccaneers share the cellar of the NFC South after the Panthers beat Arizona today without Cam Newton and the Falcons lost a close one.
Usually, when superstars play like superstars, great things happen. But not today.
Today was almost Mike Evans' day. He owned the first half with seven receptions for 146 yards and three touchdowns. And he made the big grab in the fourth quarter to set up what should have been Matt Gay's game-winning field goal.
Sadly, Gay soiled himself and missed a 34-yarder with time expiring.
Early on, Joe was so impressed that the defense literally beat up Saquon Barkley, with rookie safety delivering the knockout blow that sent Barkley out of the game in the second quarter with an ankle injury. Earlier, Jordan Whitehead came downhill and blistered Barkley, which sent the beastly running back to the trainer's tent on the Giants' sidelines.
But overall it was ugly for the Bucs defense. They let the Giants back in the game and got embarrassed by a rookie. Might want to have someone spying the rookie running the ball with the freakin' game on the line.
Another game ball for Shaq Barrett, who recorded four freakin' sacks and two strips of Giants rookie QB Daniel Jones. Barrett now has eight sacks on the season. EIGHT!!!
And the Bucs still lost — at home.
It was a dynamite first half by Jameis and a very forgettable second half at the Den of Depression.
Hat tip to Ronald Jones for another confidence-building day with 14 carries for 80 yards.
Stick with Joe for so much more out of this game.