Vernon Hargreaves On The Buccaneers Radio Network In 210 Words
September 10th, 2019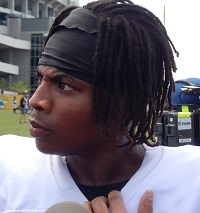 The Buccaneers Radio Network hosted fourth-year cornerback Vernon Hargreaves for a chat following Sunday's loss to the 49ers.
Joe's got your fast summary of Hargreaves' interview below:
*Sunday's Hargreaves interception, the second of his career, "was a good confidence boots after not playing all last year," he said.
*He didn't really know what to expect after not playing for a year and felt nervous through the first quarter. After that, he got into a rhythm.
*Diet is a major focus for Hargreaves, "I didn't really take that too serious, you know, when I first got into the league … but that changed very quickly."
*Hargreaves looks at his rough second season as a hard time that led to great personal growth, along with his injury last year. He said he learned a lot about football on the sidelines last season.
*Hargreaves reflected on the great mentoring that he had as a rookie from veterans during the 2016 season, and he even thought as a rookie that he'd never know as much football as those guys. Hargreaves says he's embraced his 2019 role, answering all the questions that the rookies don't want to ask coaches.
*Devin White has "picked up the [defense] like he's been doing it for years." Hargreaves said he is impressed how White talks to a 10-year veteran like Ndamukong Suh and is in complete command and confident.
*Soreness is the major enemy on a short week, Hargreaves said.