"Holes That We Hadn't Seen In A Long Time"
September 10th, 2019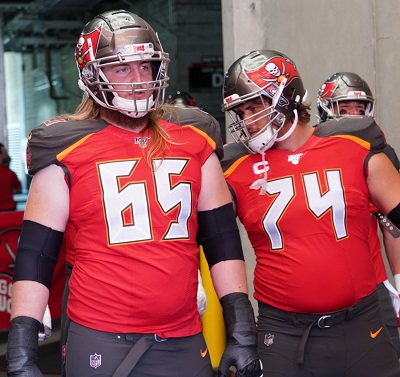 The Bucs ran the ball wonderfully well Sunday.
How refreshing it was. The stink of two years of Doug Martin averaging 2.9 yards per carry and one year of last year's mess may finally have left the building.
Peyton Barber grinded out 4.1 yards per carry. Ronald Jones opened eyes at 5.8 yards per carry, as the two combined for 108 yards on 21 rushes.
This wasn't lost on game analyst Dave Moore, the former tight end who dives deep on Xs and Os alongside play-by-play man Gene Deckerhoff. Yesterday, Moore reflected on the offensive line and the work of Jones.
"They opened some holes that we hadn't seen in a long time in the run game. Peyton Barber last year made a lot of things happen on his own," Moore said. "And the protection at times was very good, I think at times Jameis held the ball longer than he needed to instead of getting to that checkdown a little bit quicker. But once San Francisco got ahead, the Bucs had a hard time slowing that rush down.

"The O-line did a good job [in the run game], the tight ends did, as well. I mean, we saw some tight ends in the backfield leading up into clean holes that gave [Jones] the opportunity to get into the open field. And then it was good to see him stay between the tackles. That was one of the things and, you know, as a younger runner, when you're athletic and fast enough in college that if you don't see anything, you're fast enough to get around outside and beat everybody; at this level it's a little more difficult to do. Since his initial preseason last year, he's obviously gotten bigger, stronger, and we heard great things throughout preseason about how was playing and how he's matured as as runner, it was great to see him go out and put that to practice.

"Very much like [Vernon] Hargreaves, you know when you get hurt and you're out of football, yes, you have the opportunity to kind of see it from a different view and learn the game. But in the back of your mind, you still haven't gotten to that level where you feel comfortable enough where you can be out for a while and then step right back in and be the same level player you were. You know, confidence goes a long way.  … Confidence makes all the difference in the world, not just for kickers, but at all positions."
Joe sure hopes the run-game success continues. After watching Jameis Winston's decison-making Sunday, Joe is more convinced than ever that America's Quarterback needs a running game to lean on.