Time To Slash The Negative Runs
September 22nd, 2019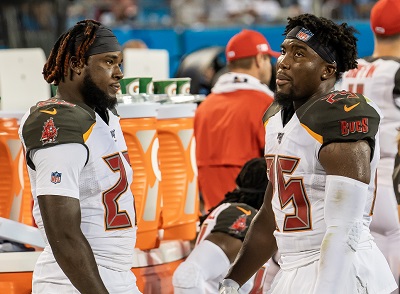 Joe gets that Bucs fans are tickled by the running game, which has transformed to almost acceptable from shamefully brutal.
But Joe is confident Bucco Bruce Arians is not as happy with it as he says he is.
The Bucs are among the NFL leaders with negative runs up the middle (5) and have a whopping 8 total through negative runs two games. … They averaged 2.4 negative rushes per game last year.
Arians talked many times this offseason about eliminating negative plays and making sure the running game hits 4.0 yards per carry.
Combined, Peyton Barber and Ronald Jones are averaging 4.06 yards per carry this season. That's a strong improvement and close to the league average, but the Bucs need better and it starts with eliminating those negative runs. The safety against the Panthers was deplorable, a brutal fourth-quarter mistake that Joe pins on Barber as well as offensive coordinator Byron Leftwich. If you're not going to let Jameis Winston throw from the 2 yard line on 2nd-and-11, then at least let him run a sneak for two yards.
Regardless, Joe will be focused today, in part, on the Bucs eliminating those negative runs against a second-rate defense. The Giants' front-7 does not compare to those of the Panthers and 49ers.