Jameis And The Right Side Of The Field
September 22nd, 2019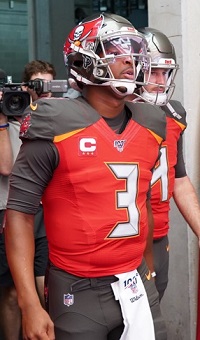 Only a third of the passes thrown by America's Quarterback, Jameis Winston, have been thrown to the right side of the field this season.
It's a little too early in 2019 to dive deep into trends, but they are out there. For some reason, Jameis has thrown twice as many passes to the left of the left hash mark than he has to the right of the right hash mark. This comes from the tracking technology data shared by the NFL NextGen Stats.
Jameis is 6-of-13 this season with two touchdowns and one interception throwing to the right of the right hash mark (and past the line of scrimmage).
Joe's not sure what to make of the data, but Joe is willing to bet that defensive coordinators are paying attention and might try to force Jameis to the right side of the field. Yes, he has had great success there, including three touchdowns passes to the right in last year's season finale.
Joe will watch for this today against the Giants. Perhaps it's something in Bruce Arians' offense that has Jameis more comfortable throwing center and left.