"Some Of These Guys Are Lazy"
September 8th, 2019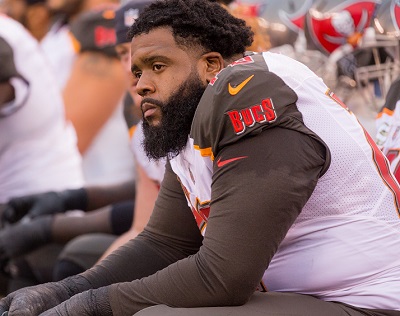 The powers that be at One Buc Palace approve of an ex-Buccaneer talking to fans on their website and he doesn't hold back.
If he's lying, then the Bucs should fire the guy tomorrow.
Joe's talking about John Gilmore, the Chucky-Raheem era tight end who spent 10 years in the NFL. Gilmore is on an official Buccaneers postgame show and he was in a bit of disbelief after today's beating by the 49ers.
Gilmore threw darts at Jameis Winston for his lack of overall leadership. Gilmore explained that he played with Drew Brees in New Orleans and Jameis simply isn't inspiring his teammates and isn't holding them accountable like Brees does.
"Some of these guys are lazy. Donovan Smith, he has lazy feet, doesn't finish plays late in the game," Gilmore said.
The point was that Jameis, per Gilmore, tolerates too much laziness and sloppiness from teammates, stuff that wouldn't fly under a veteran QB like Brees.
Gilmore is convinced the accountability and leadership from Jameis is lacking because he doesn't play well enough to speak up.
"How can you hold people accountable if you're not out there performing?" Gilmore asked rhetorically.
As for Smith and his "lazy feet," it's not a surprising comment. Nobody will ever accuse Smith of playing through the whistle every snap. But the Bucs knew that when they paid him a fat contract this offseason.