Pat Kirwan Says 4-12 For Bucs, "Tear Down" To Follow; Ex-Bucs QB Calls 2-14
September 3rd, 2019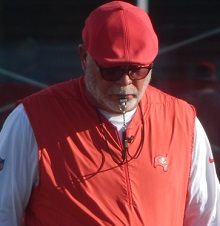 This is disturbing because it comes from arguably the hardest working and most experienced NFL analysts in the business, a former coach and an ex-QB who spent time at One Buc Palace this summer and love Bucco Bruce Arians as a head coach.
The showpiece program of SiriusXM NFL Radio is Movin' The Chains, with Pat Kirwan and former Jaguars, Falcons, Bears, Bucs and Patriots quarterback Jim Miller.
Yesterday was their day to make predictions for the NFC South and Kirwan likes the Saints to repeat, the Falcons to play 9-7 football, as the Panthers limp to 8-8 and the Bucs implode at 4-12.
"It's tough to look at down there and I would love to see [Jameis] Winston play better. I love the coach. I love what he wants to do," Kirwan said. "This might be a tear down at some point in a year or two."
Miller sees the Panthers as 9-7, better than the Falcons but not a playoff team. He's got major question marks about the Atlanta pass rush and he doesn't have them in the playoffs, either.
The Bucs? Miller thinks they could compete for the No. 1 overall pick in the 2020 NFL Draft.
"They probably will have more than the two wins I have them slated for. But I think their defense. They have a lot of work to do, man. I don't know if they upgraded at all,' Miller said. "… Where is the pass rush from this group right now? At all?"

Miller added that while he's a fan of Todd Bowles as a defensive coordinator, "ultimately it's smoke and mirrors" on defense for the Bucs because they don't have enough talent on that side of the ball.
First, shame on Miller for saying the Bucs "probably will have more than the two wins I have them slated for." Jim, if that's what you think, then don't make a two-win pick.
Regardless, both of these scenarios would represent a horror show for Bucs fans. Barring a long-term injury to America's Quarterback, Jameis Winston, the Bucs should win more than four games.
If the Bucs are a four-win-or-less club with a healthy Jameis like these guys predict, then Joe hopes Team Glazer has the stones to blow up the regime and start over.
---
Great fun, food and Bucs passion at Buffalo Wild Wings all season long. Watch every road game with Ira Kaufman and JoeBucsFan.com readers. Great giveaways, too. The preseason opener was a blast.