Losing Lights The Fire Of Lavonte David
September 3rd, 2019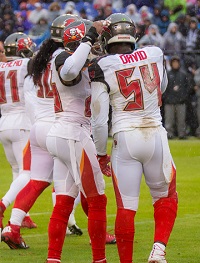 Bucs rookie linebacker savior Devin White is a spiritual man.
For example, in the latest episode of In The Current, White explained that he believes God's plan, via the knee injury of Lavonte David, was to test White's ability to lead the Bucs as a rookie through training camp and preseason without the veteran presence of David. (Yes, David was with the team in street clothes).
White also shared a rather interesting question he asked David.
The No. 5 overall pick asked David if he wished he was drafted by another team since the Bucs have lost so many games. David, per White, replied that he wouldn't change anything because all the losing keeps the fire lit inside him.
Frankly, this deep philosophical stuff hurts Joe's head so early in the morning.
Thank goodness real football is just five days away. The full In The Current Episode is below. This particular one doesn't represent the Bucs' best work on the quality series.