Mike Golic & Victor Cruz: Jameis Won't Be A Buccaneer Next Year
September 12th, 2019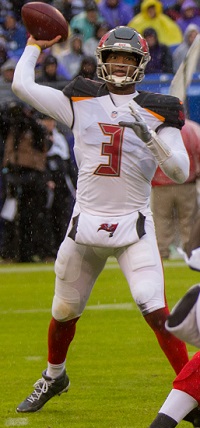 Tonight is the Bucs' lone national television appearance of the season, barring a flexed game late in the year or a playoff appearance.
And that means, as Joe has referenced all day, lots of national attention.
It hasn't been pretty.
The Bucs were a focus on ESPN Radio this morning on the Golic & Wingo show.
Former New York Giants receiver Victor Cruz and ex-NFL defensive lineman Mike Golic already believe Jameis Winston, America's Quarterback, is playing out the final days of his Buccaneers career. What they saw Sunday in the season-opener was enough for them to reach a verdict, in what they deemed a critical statement game at home under a new regime and high expectations.
Cruz believes Bruce Arians is an exceptional quarterback coach, and he thinks Jameis looking like the Jameis of old Sunday was far too telling, even though he believes Jameis will show improvement and grow during the season.
"It's one thing when you're making the same mistakes is what kind of gets you in trouble in this league," Cruz said. "If there's something that can be coached and can be fixed, and you see improvement in that area, then that's different. But if you're making the same type of mistakes, the same type of bad decision-making with the football, that doesn't help you individually as a player. And he's gotten the benefit of the doubt over the years already, and now I think that's starting to run its course."
Strong point by Cruz that Jameis already gotten his share of the "benefit of the doubt."
There's not much rope left, Cruz believes, and that's something Ira Kaufman, Tampa Bay's only Hall of Fame voter, talked about today on on his podcast. (Listen here, presented by Bill Currie Ford.)