Report: Gerald McCoy Tells Jameis The Media Is Trying To Get To Him
September 12th, 2019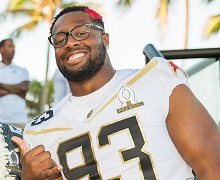 Like Joe has written for years, nobody writes a soap opera quite like the Buccaneers.
Jameis Winston had a bad game Sunday. He didn't look like a confident veteran or an average NFL starter. He deserved criticism for laying an egg on his home turf.
But those bad guys in the media are naughty boys and girls trying to drag him down. Per Tiffany Blackmon of NFL Network, that's one the messages being delivered to Jameis this week by his former teammate Gerald McCoy. Per Blackmon, McCoy, whose job is to bring Jameis to the turf tonight on Thursday Night Football, has been texting Jameis and telling him to keep his head up and to ignore the media that's looking to take him down.
Joe was not a fan of McCoy getting launched by the Bucs — and Joe wasn't crying about it either — but right now Joe is glad McCoy is gone.
Imagine counseling a division-rival quarterback hours before you face him in a must-win game. Man, Joe wonders how McCoy might explain that in the Panthers' locker room.
You can watch Blackmon's report below:
What Mike Evans told me about Jameis Winston, and the Bucs QB getting some support… from a Carolina Panther #keeppounding #gobucs #TNF pic.twitter.com/RlyIldDzVy

— Tiffany Blackmon (@tiffblackmon) September 12, 2019