Gameday Tampa Bay
September 12th, 2019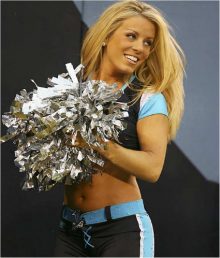 Game 2
Bucs (0-1) at Stinking Panthers (0-1)
Kickoff: 8:20 p.m.
TV: NFL Network, WMOR-TV Channel 32.
Radio: Buccaneers Radio Network WXTB-FM 97.9 in the Tampa-St. Petersburg region; 97.9 FM ESPN Radio in Tallahassee (Transmisiones de radio en español en WTMP-FM 96.1 y WMGG-AM 1470 en Tampa); SiriusXM Channel 81 (national feed) and Channel 225 (Bucs feed).
Weather: Expect beautiful weather in Charlotte tonight. Expect a temperature of 86 at kickoff, likely dipping to 79 degrees in the fourth quarter, per AccuWeather.com, under mostly clear skies.
Odds: Per the Mirage in Las Vegas, Stinking Panthers -6.5; O/U 49.
Outlook: It is a Jameis Winston Special. It really is that simple. America's Quarterback was just horrible Sunday. Joe doesn't want to hear it was this guy's fault or that guy's fault or Jameis is learning a new offense. Was Jags backup quarterback Gardner Minshew not learning a new offense too? Did he throw the ball around as if it was infected with the Ebola virus? Do the Jags have quarterback coaches as well-respected as the Bucs'? Look, Joe has long defended Jameis. He has loads of incredible potential (which we have seen) and tons of upside. He could be a top-shelf quarterback. But the time has come for Jameis to lay his cards on the table. No more potential. The Bucs need results with the upcoming draft top-heavy with quarterbacks. And tonight is the night Bucs fans need to see this. Stinking Panthers quarterback pouty Cam Newton is struggling. Carolina has turned into a one-man-band (Christian McCaffrey). The game is there for Jameis to win it. He just has to stop playing Santa Claus and Joe is guessing the only people in America more tired of this phrase are Bucs AC/DC-loving general manager Jason Licht and Team Glazer. Take care of the ball! There are no more excuses. Jameis doesn't have a suspension hanging over his head. He has incredible weapons. He has some of the best coaches in recent NFL history. If last week wasn't a fluke, he also now has a running game (Ronald Jones). And if Jameis plays horribly and the Bucs fall to 0-2, NFL history and Bucs history suggest this team is barreling down the track of yet another top-five draft pick, a prime position to get a good quarterback in the first round. What Joe will be watching closely tonight? That would be No. 3. Jameis must pick up his game. No more complicated than that.
Trinkets: QB Jameis Winston has 14,822 career pass yards and surpassed Vinny Testaverde (14,820) for most passing yards in franchise history. Jameis aims for his third division road game in a row with at least 350 yards passing. … RB Ronald Jones had career-high 93 scrimmage yards (75 rush, 18 receptions) on Sunday. … RB Peyton Barber has had at least 85 yards from scrimmage and a rushing touchdown in 2 of his past 3 road games. … WR Mike Evans has 85 or more receiving yards in 3 of his past 4 games in Charlotte. Evans is the franchise leader in receptions yards (6,131) and touchdown catches (40). … WR Chris Godwin had a touchdown catch last week. He also had 101 receptions yards and a touchdown catch in his last game against the Stinking Panthers. Godwin has 6 touchdown receptions in his past 7 games against NFC South rivals. … TE O.J. Howard had two touchdown catches in his last against Carolina. He is looking for his third straight game against an NFC South team with a touchdown catch. … TE Cam Brate is 1 of 3 tight ends (Travis Kelce and Zach Ertz) with 20 or more touchdown catches (20) since 2016. … LB Lavonte David had 7 tackles and a tackle for a loss Sunday. he has 20 tackles (10 per game), 1.5 sacks and a pass defended in his last two games against the Stinking Panthers. David looks for his fourth straight game against division rivals with at least 10 tackles. … Rookie LB Devin White had 6 tackles in his NFL debut Sunday. … LB Shaq Barrett had a sack in Tampa Bay debut Sunday, his 15th career sack. … CB Vernon Hargreaves had a 15-yard pick-six on Sunday, his first interception returned for a score and the first by a Bucs defensive back in nearly two years (Robert McClain 47-yard pick-six on Sept. 17, 2017). … DT Ndamukong Suh has 56 career sacks, third-most among active defensive tackles. … QB Cam Newton has 10 touchdowns vs. 3 interceptions and 5 rushing touchdowns in 6 career home starts vs. Tampa Bay. Newton also has 29 total touchdowns (20 passes, 9 rush) in 13 career games vs. Tampa Bay, most vs. any opponent. Newton aims for his third in a row vs. Tampa Bay with 2 or more touchdown passes. He has has 58 rushing touchdowns since 2011, tied-most among active players. … RB Christian McCaffrey had 209 scrimmage yards (128 rushing, 81 receptions), 10 catches and 2 rushing touchdowns in Week 1. He is the only player in the Super Bowl era with 120 or more rush yards and 10 or more catches in multiple games. Has 5 career games with 10 or more catches, tied for third-most among running backs since 1950. Has 318 scrimmage yards (159 per game) and 3 touchdowns (2 rush, 1 rec.) in past 2 vs. Tampa Bay. Aims for his third in row against Tampa Bay with 150 or more scrimmage yards and a touchdown. … WR D.J. Moore had 7 catches for 76 yards in Week 1. … TE Greg Olsen had 76 receiving yards and a touchdown catch in last home meeting. Among active tight ends, Olsen ranks second in catches (670) and receiving yards (7,883) and is fourth in receiving touchdowns (57). … DT Gerald McCoy spent nine seasons (2010-18) with Tampa Bay and had 54.5 sacks, third-most in franchise history. … DE Mario Addison has 8 sacks and 3 forced fumbles in 9 career games vs. Tampa Bay. He had a career-high three sacks in last home game against the Bucs. … LB Luke Kuechly had 8 tackles in Week 1. Kuechly has 956 tackles since 2012, most in the NFL. … CB Donte Jackson has a pass defended and an interception in his lone home game against the Bucs. … CB James Bradberry had 2 passes defended, an interception and a sack in Week 1. Bradberry is the first Stinking Panthers defensive back with a sack and an interception in the same game since Captain Munnerlyn on Dec. 15, 2013.
In advance of tonight's game on @nflnetwork: Why #Panthers QB Cam Newton will look different throwing the ball tonight and why the #Bucs remain confident in QB Jameis Winston. pic.twitter.com/5dShVd91K1

— Ian Rapoport (@RapSheet) September 12, 2019