Kurt Warner Talks Jameis Winston; "We've Seen Those Guys In The Past"
September 13th, 2019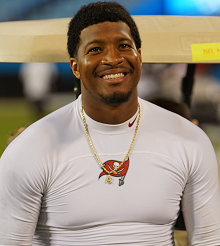 This afternoon, Hall of Fame quarterback Kurt Warner got cornered on live radio by his NFL Network colleague Rich Eisen.
The subject was America's Quarterback, Jameis Winston.
Now Warner has long taken an interest in Jameis the man and the football player. He coached up Jameis personally last month and Joe knows the two have spent plenty of time together off the field in religious and other settings.
Eisen said he was going to play sports radio guy and asked Warner to pick between Jameis and Marcus Mariota. Which QB would he want?
Joe was intrigued listening to how a legendary quarterback views Jameis, one who is paying attention and wasn't talking in sound bites.
"I'm probably takin' Jameis because I've seen more upside from him as a passer," Warner said. "The bottom line with Jameis is he makes a lot of plays on the football field, but he makes too many mistakes at critical times. He hasn't been able to delineate between what is a good risk to take and what's a bad risk to take. We've seen those guys in the past. The great ones figure that out as they go. And then they make all these plays and yeah, they make a mistake here or there, but they make way more plays than they make mistakes. And then the guys that are just average even though they're talented are the guys that never figure that out. They give you one great performance and the next one's awful, and then another good performance and the next one's awful. And that's really where he's been; he's been a roller coaster the entire time. But I've seen more from him passing-wise then with Marcus [Mariota]."
Well said.
Jameis is inconsistent and talented and maddening and exhilarating — typically all in the same three- or four-game window.
A Bucs fan asked Joe this week what Jameis would have to do to return next season. Joe's simple answer was make sure 75 percent of his games graded somewhere between solid and spectacular. If Jameis did that, then he could get away with four clunkers and still get a sixth Buccaneers season. On that scale, Jameis has a 1-1 record along with the Bucs.