Devin White "Probably" Will Miss Time
September 13th, 2019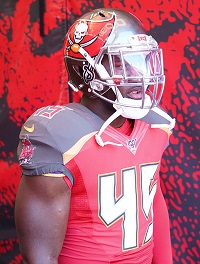 The anointed rookie savior of the Buccaneers defense, No. 1 overall pick Devin White, hasn't done much on the field for Tampa Bay yet, and the defense still has been quite good.
That's quite a development.
White left last night's game early with a knee injury. He was wearing a brace afterwards in the bowels of the Panthers' home field.
Today, he is walking freely, per Bucco Bruce Arians. But White returning to play against the Giants in nine days is very much up in the air.
"So far, it looks like a grade-one, medial MCL [sprain], so it'll be day-to-day," Arians said. "As strong as he is, I don't know how much time he'll miss."
Arians went on to say White "probably" will miss time, but like Arians said about Vita Vea's knee injury in preseason, White might be tough enough to not miss a game.
"Knowing him, it could possibly be back, but he's walking without a brace right now, so [we'll] keep our fingers crossed," Arians said.
After an illness hit him just before opening day and the early exit last night, Joe can't really say much about White. Hopefully, he's a fast healer. Joe wasn't counting on White being "great" this season, but Joe certainly expected him to be good and available.