Jake Arians: "Until Ronald Jones Proves That Home Run Hitting Ability"
September 7th, 2019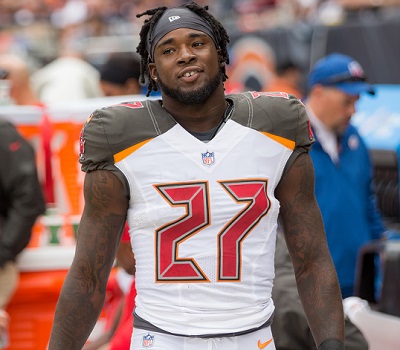 You want insight into the Buccaneers' run-game approach, Joe's got a window for you to peek through.
Joe wrote back in March that the Bucs' power players see a potential top-5 running back when they study Peyton Barber. Notice the Bucs did nothing significant when it came to signing or drafting a running back this offseason. It was status woe. Heck, they didn't even shake up the offensive line, other than swapping Alex Cappa for Caleb Benenoch.
That lack of upgrades was perhaps the greatest indicator that Bucco Bruce Arians believes Dirk Koetter and Todd Monken were lost when it came to establishing a running game and coaching up offensive linemen and running backs.
Ronald Jones, the No. 39 overall pick in last year's draft, revived from the dead during this preseason. He looked like a real NFL running back. Now the question is how much will he play?
Jake Arians, a former college and NFL kicker, and the beloved son of Bruce Arians, dabbles in media and is part of a fantasy podcast that also talks a lot of pure football on The Draft Network.
This week, the younger Arians touched on the Tampa Bay running game and offered what Joe believes is a peek into his dad's approach to Jones.
"I think Peyton Barber is a better play than Ronald Jones early in the season until Ronald Jones proves that home run hitting ability," said Jake Arians, who also said he likes O.J. Howard and Chris Godwin to have "big" games on Sunday.
Joe is dialed into that comment about Jones proving himself as a home run hitter. Joe suspects that comes directly from Bucco Bruce Arians.
And it makes sense.
If Jones can't show that he's an explosive back in limited carries and crank out the occasional 30-yard run, the Bucs will just roll with Barber as their bell cow. At least he has shown he can protect the football and grind out tough yards late in games.
Joe thinks it's noteworthy that Jones showed nothing as a kick returner during the preseason. It was as if Bruce Arians was saying, "show us that word class speed," and it never materialized. And then the Bucs went out and claimed a kick returner on waivers.
Certainly, Jones will get touches on Sunday and Thursday. Joe sure hopes he makes the most of them or he might end up battling with Dare Ogunbowale by the end of September.