Buccaneers See A Top-5 Running Back In Peyton Barber
March 11th, 2019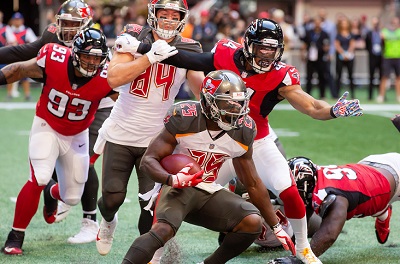 The love for Peyton Barber inside the walls of One Buc Palace runs extremely deep. Joe learned last week that it runs far deeper than Joe ever imagined.
In fact, Bucs officials see Barber as a guy they expect will be top-5 rusher in the NFL this season. And no, that's not analysis from men sitting around drinking whiskey and talking loudly in lewd establishments.
Bucco Bruce Arians and Jason Licht blew lots of smoke talking about Adam Humphries and DeSean Jackson this winter, but it wasn't smoke from Arians when he gushed about Barber over and over last month.
In 2018, five NFL running backs ran for more than 1,100 yards. In 2017, seven RBs broke the 1,100-yard mark. Together, all those guys, over both seasons, averaged about 9 rushing touchdowns per season.
Joe can say with certainty that the Bucs would consider Barber to have underachieved if he cranks out 1,100 yards and nine touchdowns through a full season this year.
Really, that's how highly they respect and value Barber at One Buc Palace.
It's why there's been no restricted free agent tender slapped on him yet. The Bucs want to lock him down for years. Joe wonders today if Barber will gamble on himself and insist on the one-year tender. The deadline is Wednesday afternoon.
However the Bucs assess Barber, they still need a running back desperately. They're extremely thin at the position.