"If He Stays Healthy, He'll Be Great"
September 12th, 2019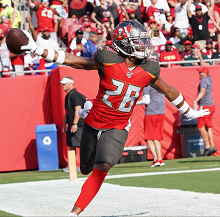 It's been four months since Bruce Arians said Vernon Hargreaves needed to "get his mind ready" as Hargreaves inexplicably sat out the first practice of OTA sessions.
That feels a lifetime ago.
Since, Hargreaves had a very solid training camp, followed getting burned deep in the preseason opener before bouncing back quickly in that game.
Hargreaves got his second career interception Sunday against the 49ers on opening day, and defensive coordinator Todd Bowles, a former NFL defensive back himself, said he sees the greatness in Hargreaves.
"If he stays healthy, he'll be great," Bowles told the Buccaneers Radio Network. "I was very happy for him because he dropped three [interceptions] in camp. It was the same type of play, so for him to come down with that and the pick-6, it was a great lift for the team at the time. But Vernon's going to tell you you're never satisfied when you lose a ball game. … But as far as him staying healthy and being a smart football player and a tough football player, he's all those things. He's all those things. He just has to continue and keep going."
Keep it rollin', Vernon!
The Bucs are desperate for Hargreaves to thrive. He likely must become a true No. 1 corner against the beastly receivers coming up on the Bucs' schedule in order for the Tampa Bay to thrive. And he's got to be special to earn his extremely fat fifth-year salary for 2020. If he can't, then Joe has no doubt the Bucs will roll with the four corners they drafted in 2018 and 2019.