Sharing The Big-Pick Game Lead
September 12th, 2019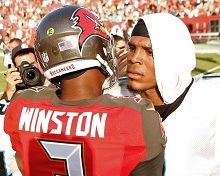 There's a reason Joe won't wager on the Bucs-Panthers game tonight.
Why? Because both starting quarterbacks are really good at dropping clunkers on the stat sheet. Neither is a model of consistency throwing the football.
In fact, per NFL Network, the two QBs who have had the most three-or-more interception games since the start of the 2015 season are Cam Newton and Jameis Winston, America's Quarterback.
Sunday's three-pick showing by Jameis against the 49ers was his 17th career game with multiple interceptions, most in the NFL since that 2015 NFL Draft. Joe's just happy Jameis' fumble against San Francisco was recovered by the guys wearing pewter and red.
Any game with these quarterbacks starting is unpredictable out of the gate. But what is typically predictable is Newton hurting the Bucs with his legs.
That's a wild card for Joe tonight. Newton officially had just three rushes in the Panthers' opener for -2 yards. Joe's wondering if there will be more of a Carolina effort this season to keep Newton from pounding the rock and absorbing a lot of hits.