Five Things
September 24th, 2019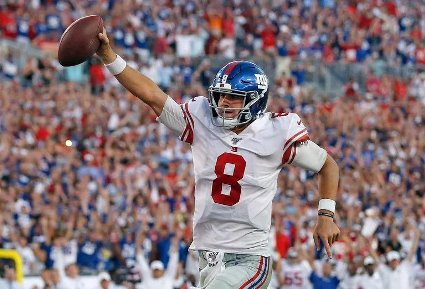 Joe's weekly five-point look at the Bucs during the season.
When Jameis Winston threw his lone interception with 11:24 left in the game, the Bucs went completely turtle against the Giants until the final drive when they had no choice but to pass.
After Ryan Connelly picked off a Jameis pass which did not result in one Giants point — Shaq Barrett recovered a Daniel Jones fumble after he sacked the rookie two plays later — the Bucs attempted one pass before their final drive with just over a minute left.
That's nine running plays and one pass play. And that one pass play to Cam Brate looked like it was a first down but Giants safety Michael Thomas made a tremendous open field tackle, forcing the Bucs to punt and setting up their game-winning drive. That may have been the play of the game for the Giants.
Joe can only reach one conclusion: Bucco Bruce Arians lost all faith and trust in Jameis after he threw that pick and Arians decided he was taking the ball out of Jameis' hands.
Joe's sick of people telling him how good the Bucs' run game is. That's nonsense. If the Bucs run game was so good, how come Gale Sayers (Peyton Barber) and Walter Payton (Ronald Jones) can't break a tackle and house the ball?
If Arians and his coaching staff cannot see this team has significantly more talent in the passing game than the running game, then this team has a monumentally bigger problem than a kicker who can't convert at point-blank range that a junior high school soccer player could.
So why then did Arians take the ball away from Jameis? He is either scared of Jameis or doesn't trust him or both. It's the only thing that adds up.
Creeping close to Culverhouse Era
The Bucs are 1-2. The season is hardly over. But objective minds looking at the schedule see the Bucs will not play at home until Nov. 10 when they host the Cardinals.
To be honest, this team plays so terribly at home it may be a good thing to get away, even though the physical toll will be massive with two trips to the west coast and a trip to London.
The Bucs may go 2-3 on that five-game trip which would give them a 3-5 record when they return to the Den of Depression. Anything less than that, and the Bucs are looking squarely at yet another playoff-less season at the halfway mark.
When the racist Hugh Culverhouse owned the Bucs, he mismanaged the team so terribly they went 14 straight seasons without seeing the playoffs. Not until he was dead did the Bucs return to the postseason.
Well, if Arians doesn't work some magic, if the Bucs miss the playoffs this year, that will make it 12 straight seasons without a playoff berth. When the Bucs' dubious streak went 14 seasons, it was considered one of the darkest periods in all of sports.
The Bucs are not far off from matching that dark history. And it cannot be blamed on a racist skinflint.
Shaq surprise
It is hard to believe, but the Bucs found a guy in the offseason who should get 10 or more sacks just walking the streets.
There is no way if you hook up Bucs AC/DC-loving general manager Jason Licht to a lie detector test that he would say he saw this coming.
Nobody saw this coming. Not Licht; not Arians; not Barrett; not the Broncos from whence Barrett came. Nobody.
Barrett tied an NFL record for sacks (!) on Sunday with the most after three games (eight). He leads the NFL in sacks (!). That's right, a Bucs player!
Now the Shaq Watch is on. When will he get 10 sacks? And how high can he go? Hall of Famer Warren Sapp had 16.5 in 2000, the franchise record. Barrett is nearly halfway there after three games.
The question is, how do you keep him? Barrett would be out of his mind not to test the free agent market after this season. Hell, if he gets on the open market, Barrett could be looking at $17 million a year!
The best way of keeping Barrett? Licht needs to sign America's Quarterback, Pro Bowler Jameis Winston, to an incentive-laden contract. Then, franchise Barrett.
The way Jameis has played, he's looking at the franchise tag. That is, unless Barrett gets it first.
Apathy setting in
Joe has never seen it this bad.
Joe is in contact with Bucs fans on this site, on social media and through daily routines. Joe has never seen the fan base like it is now after that joke of a choke to a rookie quarterback making his first start, on the road, despite losing his Pro Bowl running back.
Bucs fans have gone from hope to despair to hope again to full-blown disgust in less than a month. And Joe senses apathy is about to set in. And when that happens, you may not get a fan base back for years, if you ever do.
Joe got a phone call last night from a friend who is a hardcore fan. He's a season ticket holder. He has excellent seats. Pays $8,000 a year for tickets. In his phone call – Joe could tell he was really, really bummed by the tone of his voice – he told Joe he has had enough. This is a guy that cannot consume enough Bucs info. He is a draftnik and for the past three or four years he's been outraged how the Bucs have drafted. Sadly, many players this guy wanted the Bucs to draft are having fine seasons. Dalvin Cook, Josh Allen, Brian Burns and Marlon Mack, to name a few.
This guy also could not understand why the Bucs this offseason were seemingly frozen in time in trying to upgrade the roster from a 22-loss team the past two years, as if to say, "Naw man, we're good." He's sick of hearing about talent when he sees the losses pile up every year with the same talent.
This same friend of Joe was nearly in tears how the Bucs ignored Kareem Hunt, who could have been had for nothing, and that Dee Ford could have been acquired for a second-round pick.
"Are you trying to tell me we passed on trade where we could have had Dee Ford for freaking Sean [Murphy-] Bunting!?"
When Matt Gay's game-winning field goal attempt sailed wide right, so did Joe's friend's interest in the Bucs.
"I can't deal with this any longer," he said last night. "I've wasted enough of my life sweating over this team and for what? I've wasted Sundays where I could be with my family for the past 12 years. And for what? I'm taking the boat out next Sunday and I'm spending time with my family. It's time I enjoy life on Sundays again. I have no interest in watching the Bucs and ruining my day."
A born-and-bred Tampa native and a lifelong Bucs fan, Joe's friend added he was thinking seriously of adopting the Bills or the Colts and devoting time to them because he told Joe he believes those teams have a better direction and a plan than the Bucs.
That's where this fan base is. Finally, it looked like this franchise stepped away from the coaches who crawled into holes with leads, guys like Greg Schiano or inept Lovie Smith, or even Father Dungy who was anything but aggressive here, and to a lesser degree Dirk Koetter.
When fans saw the man who once upon a time lived by the motto of "no risk it no biscuit" turn into a cool-uncle version of Lovie, well, we all have seen this movie before.
Joe cannot remember the fan base so depressed, so at a loss for words where there are even questioning why they follow the Bucs. They are just zapped. Numb.
But that is where the franchise is right now. The Bucs are actually chasing their own hardcore fans away with decisions both on the field and in personnel that really have no explanation.
And the losses. Oh my, the losses.
That's how bad it is.
And once fans leave, you have no idea of when or if you will ever get them back.
Who exactly is tanking?
Think about this for a moment: There is no doubt the Dolphins are Tanking for Tua. Smart gamblers are taking advantage of this. This tanking thing is good for business and good for Dolphins fans. Don't let any stuffed suit in New York try to tell you otherwise.
Anyway, the Dolphins are 0-3. So what, this is a Bucs site, right?
Well, the Bucs are just inches away from being 0-3. If Vernon Hargreaves doesn't make a sick tackle of Christian McCaffrey, the Bucs lose at Charlotte in Week 2.
Why is Joe bringing this up? The Dolphins are actually trying to lose. The Bucs are actually trying to win. Yet the Bucs are a cat's whisker away from being tied in the running for the first overall pick in the 2020 draft.
That's how bad this organization has sunk.
Of course, this begs the question, if this team is so talented why does it always lose? Year after year? Maybe could it be, just maybe, this team isn't as talented as folks have trumpeted?
The sell job that this team is talented is really starting to get stale. Talented teams don't let a rookie quarterback making his first NFL start — on the road no less! — with no run game punk you in your own crib.