The ScuttleBucs Dive Into A Deep Season Preview, Jameis, Defense & Much More
September 4th, 2019
Podcast (scuttle-bucs-podcast-jeff-cameron): Play in new window | Download | Embed
Subscribe: RSS
This week on the ScuttleBucs – Jeff and Tom preview a game that counts! The ScuttleBucs take a comprehensive look at changes made and how they affect a season outlook. Then, after hearing five good minutes from Bucco Bruce Arians as he spoke to the media this week, the guys talk defense, Alex Cappa, Jameis and more. Finally, Joe stops in for updates from One Buc Palace. A comprehensive season preview edition, brought to you as always by Bill Currie Ford! Go Bucs!
PRESENTED BY BILL CURRIE FORD!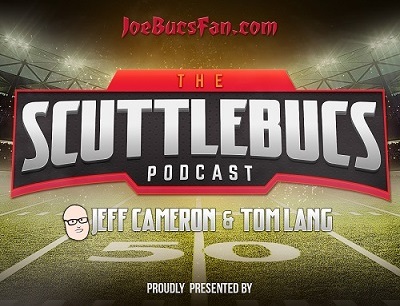 The ScuttleBucs is hosted by Jeff Cameron and Tom Lang, powerhouse personalities and lifelong Bucs fans at ESPN Tallahassee, 97.9 FM, the ScuttleBucs is a must-listen presented by Bill Currie Ford, home of the nationwide lifetime warranty for new and pre-owned vehicles.
Listen or download above. Or listen and subscribe at  Google Play, Apple Podcasts and more.
Read more about The ScuttleBucs below:
Of course, many of you know Cameron, namesake of "The Jeff Cameron Show." Joe has been a guest with Cameron many times and Cameron is a personal friend of Jameis Winston.
Cameron is a St. Petersburg native, a proud Lakewood High graduate and a diehard Bucs fan since he was a little guy running through Tampa Stadium in the late 70's. Jeff is a 20+ year radio host in Tallahassee talking Florida State and national sports — weekdays 3 p.m. to 6 p.m. on ESPN Tallahassee 97.9 FM since 2012. Jeff has reported/opined for ESPN SportsCenter, ESPN Radio's flagship show Mike & Mike, on SiriusXM and he appears on local shows from Seattle to Miami. He thanks the football gods daily that the Lovie Smith era is over and misses the days of Lee Roy Selmon and Doug Williams.
Tom Lang is a popular guy on these pages as host of the JoeBoltsFan podcast during the NHL season. A native of Pinellas County, Tom graduated Clearwater Central Catholic in 2005. He started working in sports in the fall of 2004 covering Friday nights on the high school beat for the St. Petersburg Times. After moving up to the state capital, Tom worked the Florida State sports beat for the Rivals and 24/7 sport networks. He's been executive producer of The Jeff Cameron Show since 2012, and he's the Operations Manager of ESPN Tallahassee. Tom still smiles at the memory of dejected Eagles fans leaving their beloved Vet as NFC Bridesmaids all those years ago, and he's Brad Johnson's biggest fan. Seriously.