Peyton Barber Keeps Starting RB Job
September 10th, 2019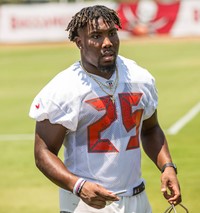 Yes, Peyton Barber remains the man despite being outplayed by the guy behind him on depth chart.
Barber busted one very strong run against the 49ers on Sunday, a 14-yard scamper over the left guard that saw Barber break two tackles. He finished with eight carries for 33 yards, and he took public blame from his head coach for running a bad route that led to Jameis Winston's first pick-6.
Running back Ronald Jones, however, was more dynamic with 13 carries for 75 yards. Regardless, Bucco Bruce Arians today said Barber will be the starter Thursday night at Carolina. RoJo will relieve him and he'll stay in if he gets hot, the head coach said.
Fans pining for RoJo to be the featured back are going to have to wait at least another week.