"I've Been Praying For A Little Nasty"
September 16th, 2019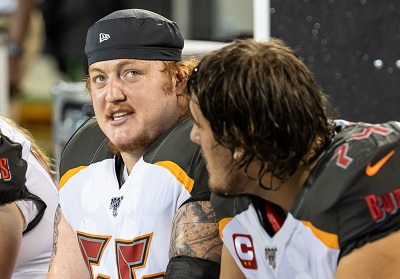 A seven-year starter on the Buccaneers offensive line, a man who often is a very harsh critic of his beloved Buccaneers, enjoyed seeing a team playing hard and old school on Thursday night.

Ian Beckles (1990-1996) barked at Bucs fans to not discount the win at Carolina because it's so hard to win on the road during a short week.
On his In The Trenches podcast, Beckles said there's plenty to look forward to with the Bucs but he's not ready to say the team is good. However, Beckles said he loves the effort. "I've been praying for a little nasty," Beckles said.
And he got it. He likes the energy in the defensive trenches and on the other side of the ball.
"I would have [given] a game ball to the offensive line. In that short week, beginning of the season going against Gerald McCoy who flapped his gums and showed his ass on Thursday night," Beckles said. "The offensive line for once gave us the ability to continue running the ball."
A noted McCoy basher, Beckles said McCoy's critical personal foul after Ryan Jensen got under his skin was embarrassing.
"Jensen didn't do nothing. He must have talked about [McCoy's] mother. He didn't really touch him. He didn't do anything all that mean," Beckles said. "… And then pushed [Jensen] back like a tough guy and got the 15 yards, made probably one play, tackle for loss. That's about what Gerald does. Carolina, enjoy. Enjoy overpaying somebody who makes 1 1/2 plays per game and you will lose a lot."
The Bucs were physical on Thursday and it was so damn refreshing — and very encouraging on a short week. Joe tips a hat to Bruce Arians' sports science team for having the team ready.