"I Was Able To Step On His Toes"
September 16th, 2019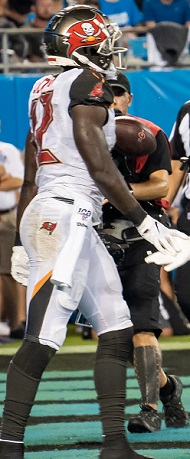 If you're keeping score at home, Chris Godwin is on pace for 98 catches, 1,392 yards and 16 touchdowns this season.
So it's no surprise Godwin was invited on SiriusXM NFL Radio following the Bucs' victory against the Panthers.
In typical Godwin fashion, he was all business on the radio, little personality or fluff.
Godwin talked about how the Bucs have a fighting and scrappy team this season and their effort and physicality Thursday night was worthy of praise. But it was "not a pretty game by any stretch of the imagination," Godwin said, noting Bruce Arians was all about the Friday corrections while reviewing film.
On his touchdown against Carolina, Godwin talked about beating cornerback Dontee Jackson on the post route. "I was able to step on his toes and to buy a little bit of time to buy separation for Jameis." (Joe wonders whether stepping on toes is thing?)
On Jameis Winston, Godwin says pressure doesn't seem to affect him because he is the same hard competitor on every single play.
On Arians, Godwin said he is unique for his extreme level of passion "and you can tell he genuinely wants his best for all his players … and for the football to mean something to them."