Tony Dungy Identifies "Jameis' Problem"
August 23rd, 2019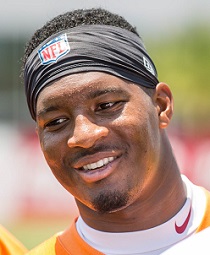 Asked about Marcus Mariota on national radio this week, Father Dungy volunteered a take on America's Quarterback, Jameis Winston.
Yes, Dungy believes Jameis can improve and be the Bucs' true franchise guy, but Dungy got specific when it came to what Jameis needs to fix in his head.
"Jameis' problem is he's always carried the teams that he's been on," Dungy told CBS Sports Radio. "And I think what Coach Arians is trying to get across to him is, 'We're going to be good enough that you aren't going to have to be a hero every single play of every game. You just have to play winning football and we're going to be fine.'"
Joe can't wait for real football to arrive. All the Jameis chatter is starting to hurt Joe's head.
Is Dungy, who was Arians roommate and coaching brother with the Chiefs decades ago, saying Jameis couldn't handle the pressure? Is he politely saying the Bucs had crap defense and no running or kicking game and it got in Jameis' head? Is he saying he secretly believes the former coaching staff put too much on Jameis and it twisted his thought processes?
It would be nice to see how Jameis performs with an average running game and an average defense, and with a kicker who doesn't make you cover your face and peek through your fingers.