Gargantuan Night For Matt Gay
August 23rd, 2019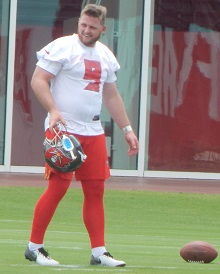 Despite an impressive training camp and standout field goals in two preseason games, the cold reality for rookie kicker Matt Gay is that his Bucs future could come down to one home game tonight.
It's probably unfair, but that's the NFL.
If Gay, for example, misses an extra point and a 39-yard field goal against the Browns, kicker-battered-and-bruised Bucs fans will freak out. Bucco Bruce Arians and general manager Jason Licht also will have to take a long look in the mirror — and/or enjoy a liver-straining, whiskey-pouring session just to clear their heads.
That's what it's come to in Tampa.
Arians said he's playing the Gay-Cairo Santos kicker battle to the finish. But Joe and legions of Bucs fans want it to be over now. Fans are yearning to run out and purchase Gay jerseys, but it's just not that simple for skittish Tampa Bay faithful. Preseason may be meaningless, but it's certainly not when it comes to kickers.
Santos could flip the script tonight if both kickers get opportunities. Joe hopes that doesn't happen. Nothing against Santos, but Gay settling in for consistent rookie season would be such a sweet tonic.