Tom Brady Is Trying To Be Like Jameis
August 1st, 2019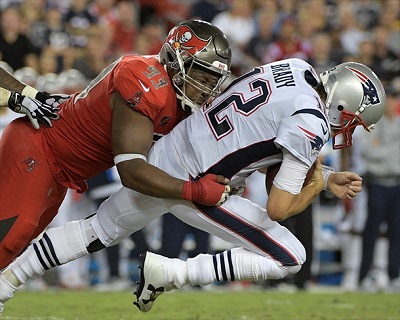 Now this really put a smile on Joe's face this morning.
Likely the greatest quarterback in history, Belicheats star Tom Brady, told reporters yesterday that he added beef to his frame as part of a calculated offseason decision.
Hey, that's just like "Big Jameis," who debuted this winter and will be in place come opening.
"I wanted to get a little bigger this year and put on a few more pounds and try to absorb the hits a little bit more and I worked pretty hard at that," Brady said at training camp this week. "I still realized when I got here I wanted to be a little more fluid and get back to the fluidity that I'm used to, too, so there's a difference between getting really dense and obviously being more pliable."
Of course, Brady is well known for his primarily vegan diet and obsession with crafting a precision machine of a quarterback body. And he decided bigger is better. Joe thinks it's great that Brady wants to be more like Jameis.
Joe doubts Jameis' new "armor" will make a bit of difference in his game, but if it gives him more confidence, that's probably a good thing.