Seeking A Ticket To The Top
August 23rd, 2019
BY IRA KAUFMAN
The Sage Of Tampa Bay Sports
Todd Monken won't be calling the plays for Cleveland this season, but he may soon be calling the shots.
Tonight's preseason game against the Bucs marked a homecoming for Monken, who served ably as Dirk Koetter's offensive coordinator for three years. When Bruce Arians replaced Koetter in January, Monken mulled over several options before choosing the Browns – although he won't be calling the plays this fall.
New head coach Freddie Kitchens is keeping that responsibility, even though the Bucs finished with the third-ranked offense in the league last season under Monken's command. Instead of retaining Monken on his staff, Arians hired Byron Leftwich to run the show and get the most out of Jameis Winston and company.
If the Browns live up to the pre-season hype and end a playoff drought that stretches back to 2003, Monken's profile will be greatly enhanced. He almost nailed the Jets head coaching job before losing out to Adam Gase, so he's clearly on the NFL radar screen as an assistant on the rise.
At the age of 53, Monken senses he's in the right place at the right time.
"Do I like calling the offense? Of course," he says. "Do I like developing the game plan? Of course. More importantly, you want to be around really good players and you want to be able to move the football because when you are a part of it and you do not, I do not care what role you have, it stinks. That was a big part of me coming here."
Buc players swear by Monken, who orchestrated the NFL's No. 1 passing attack last year.
"I like Todd," says Demar Dotson. "He's smart and he's upcoming. When Dirk gave him an opportunity to call plays, he did a good job with it. It'll be good to see him Friday night. I look at him as one of the offensive masterminds in this game. If he does a good job with Cleveland I think he'll definitely be a head coach somewhere."
In Tampa, Monken was known for an innovative mind and a sharp tongue.
Who can forget his response in May, 2018 when he was asked about Tampa Bay's struggles in the red zone?
"We absolutely chose to suck," Monken said. "We made that decision as an offense to play poorly."
When things go awry, Monken doesn't look for excuses. He can be brutally honest and he owns up to his own shortcomings, a rare trait in the coaching community.
"He has a bright future," says Peyton Barber. "He did very well for us here in Tampa. I respect him as a player and love him as a coach. The man doesn't mince words."
Monken looked around the NFL landscape and decided Cleveland was the place to be.
Smart man.
With Baker Mayfield under center, the LSU tandem of Odell Beckham Jr. and Jarvis Landry on the flanks and sneaky good tight end David Njoku, the passing game should be potent. Factor in Nick Chubb's running skills and the Browns could feature the kind of offensive balance that was sorely lacking in Tampa last year.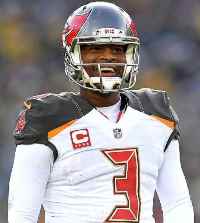 Before Monken arrived on the shores of Lake Erie, he heard a lot about Mayfield, the gifted second-year quarterback who doesn't lack for confidence.
"You are going to have a preconceived notion," Monken says, "just like when I was in Tampa with Jameis. "You can have a preconceived notion from the outside of what you think someone is and rarely is that really who they are. At the core from a competitive nature standpoint, I have said this many times, Baker is what I thought he was.

"He likes to have fun and he loves to play football, but do not confuse that with that he just clowns around because he does not. It is important to him. It is important to the meetings. He asks great questions. He wants to be on the same page. He wants to be elite. When you are that way, all of these guys want to be elite players, but he is at the top of that group."
Behind the scenes, Monken and Leftwich are both looking to step onto center stage. Winning is their ticket to the top as two forlorn franchises met Friday night in Tampa, each seeking a new beginning.
The quest is a simple one: don't absolutely choose to suck.
---
Great fun, food and Bucs passion at Buffalo Wild Wings all season long. Watch every road game with Ira Kaufman and JoeBucsFan.com readers. Great giveaways, too. The preseason opener was a blast.