"The Equalizer" And "The Checklist"
August 27th, 2019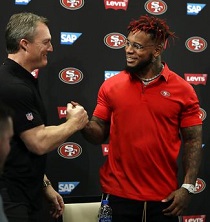 Joe's combining the takes of 49ers general manager and Bucs legend John Lynch here with those of former Ravens, Browns and Eagles scout Daniel Jeremiah, the draft guru of NFL Network.
Not a bad combo.
Recently, Jeremiah hopped on Twitter and shared his "checklist for building a championship foundation in today's NFL. Role/number of players: QB (1), pass rusher (2), offensive playmaker (3), defensive playmaker (3), quality offensive linemen (3):
Joe was intrigued by this formula to dissect a roster.
The Bucs have a quarterback good enough to be a piece of a playoff team. But two pass rushers? With Jason Pierre-Paul injured, the Bucs likely don't have one top-30 edge rusher. That's one reason Todd Bowles is going to be blitzing repeatedly. Vita Vea, if healthy, and Ndamukong Suh (if motivated) are strong pass rushers.
Tampa Bay will host the 49ers on opening day and Lynch spoke on CBS Sports Radio this week about his decision to load up on pass rushers over the past two years. Lynch called a pass rush "the equalizer" in an era where you can't physically intimidate opponents. Quarterback hits are about the only way to get that done, Lynch believes.
Meanwhile in 49ers camp, newcomer edge rusher Dee Ford, 13 sacks for the Chiefs last season, resumed practicing yesterday after knee tendinitis shelved him for the preseason. Barring a setback, expect him to face the Bucs in 12 short days. DE Nick Bosa, the Niners top draft pick, is still nursing a significant ankle injury and Lynch has called him "50-50" for Week 1 in Tampa.
Back to the checklist … at "offensive playmaker," the Bucs hit the magic total of  "3" with Mike Evans, O.J. Howard and Chris Godwin. But Joe can't put anyone else in that category.
Defensive playmaker? Whether the Bucs have three is a huge question mark? Will they even have one healthy for opening day? But perhaps they have four?
Lastly, when it comes to "quality offensive linemen," Joe can't answer that now without a clear definition of "quality." However, Donovan Smith, Ali Marpet and Ryan Jensen have all done it in the NFL and proven their durability. At the least the high-end ability is there with all of them.
Joe's looking at the Niners-Bucs game and seeing two teams with so much talent and so much to prove.
The 49ers came to Tampa last season off a bye week with a top-10 defense and the Bucs absolutely shredded them with a balanced attack en route to a 27-9 win. Is there a reason the Bucs can't do that again?