Jason Pierre-Paul Now Rehab Ready
August 27th, 2019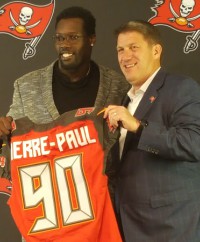 Plenty of gray area remains when it comes to the football health of Jason Pierre-Paul, but a few dark clouds drifted away today.
NFL Network reported that JPP was cleared by Bucs doctors, and his doctor, to begin rehabilitation following a neck fracture in early May. That does not mean cleared to play football, only cleared to rehab to get to the point where real football training can begin.
The Bucs will return from their Week 7 bye and head to Nashville to play the Titans on Sunday, Oct. 27 — hopefully with at least a 3-3 record. Maybe, just maybe, JPP is ready to play exactly two months from today.
It's a fun thought, but Joe wouldn't bet a nickel on JPP returning to the field this season for the Bucs.
However, JPP is an interesting poker chip. He's due a non-guaranteed $12.5 million in 2020, a season in which the Bucs could be contenders. That's a low salary for a top-flight pass rusher.
Joe has no access to Bucs medical records, nor would Joe trust any source on the real extent of JPP's injury. But if he can get back to the field this season and show anything at all that looks like his old self, then he'd have value for next year, either as a trade piece or in-house.
At this late date, it might be worth the Bucs gambling on JPP recovering, though Joe wouldn't quibble at all if the Bucs cut him and banked the salary cap money that they can use now or rollover to next season.