The Public Thank You
August 13th, 2019
BY IRA KAUFMAN
JoeBucsFan.com columnist
It was approximately 6 p.m. on the evening of Jan. 19, 2003, when Ronde Barber entered Buccaneer lore.
In returning a Donovan McNabb pass 92 yards for a touchdown, Barber closed down the Vet and opened the Super Bowl door for a franchise that had seen its previous two seasons end with lopsided playoff losses in Philadelphia.
Derrick Brooks will never forget the interception that clinched a 27-10 triumph and he readily admits he didn't hustle to help Barber reach the end zone.
"I was looking up in the stands and seeing how quiet it was," Brooks says. "You could hear a mouse drop."
How about escorting your teammate downfield?
"I didn't do that because I knew he was gone," says Brooks. "I was jogging, looking up at the stands. That was a signature moment. Thank you, Ronde."
On Tuesday, the Bucs say thank you to No. 20 in a public way with a press conference saluting Barber's entry into the Buccaneer Ring of Honor Sept. 22, when Tampa Bay faces the Giants in Week 3 at Raymond James Stadium.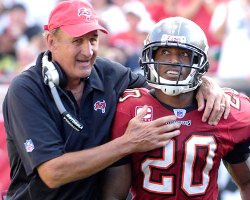 Despite five Pro Bowls, All-Decade honors and a slew of imposing statistics, Barber hasn't made the list of 15 finalists for the Pro Football Hall of Fame in his first two years of eligibility.
That's a travesty.
The same group of selectors who disparage John Lynch's career statistics won't recognize a statistical marvel. Start with durability — Barber didn't miss a game during his final 15 seasons. Add in 47 interceptions, 28 sacks, 15 forced fumbles, 1,028 tackles and you begin to understand the man's unique versatility.
On Monday, I asked Bucs cornerback coach Kevin Ross for his thoughts on Barber.
"Is he available?," Ross joked. "Smart. First of all, smart player. He put himself in a lot of positions to make plays. And when he was in position to make plays, he made them. Good blitzer, good cover guy, you could do a lot of things with him."
The Bucs did exactly that and Barber responded with 197 passes defended, second only to new Hall of Famer Champ Bailey. He also scored 14 non-offensive touchdowns, fourth all-time behind Devin Hester, Deion Sanders and Rod Woodson.
That's pretty good company.
"Ronde hung around long enough to break my records," Brooks said with a smile. "Great player, great Buccaneer. His resume stacks up with the best of them. I've seen Ronde play through several injuries. One in particular when his thumb was jacked up, a ligament missing and he ends up getting a pick in that game.

"Another time he was hobbled by a knee injury, he gets a pick, takes it 80 yards. It's a young man who says I can go out and give it my all. It's not just able to play hurt, it's playing well when you're hurt — and that's what he was able to do."
Barber did it all, and he did it with an attitude.
"He'd tackle physically," Brooks said. "Ronde played with an old chip on his shoulder."
Mandatory Precision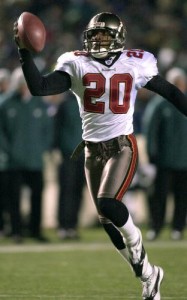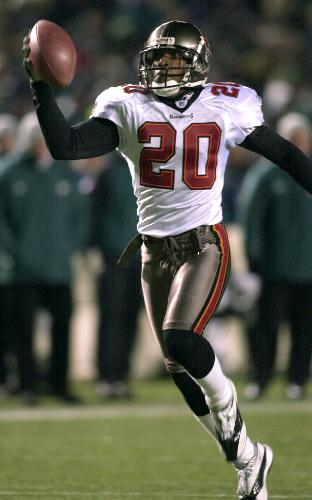 As a key component in the Tampa 2, Barber became a film fanatic. He studied tendencies, looking for any edge he could find.
"We knew we had to be better than our opponent because we were a defense that wasn't complicated," Brooks said. "We had to be on every detail. We had to know ourselves better than our opponent and at the same time, know our opponent better than themselves."
Barber seemed to take particular delight in schooling McNabb, who was not prone to turnovers during an accomplished career. In frigid Philadelphia, Barber's legendary pick turned out the lights.
"I was not nervous," Brooks said of that fateful drive. "We talked about that going into the game. If they're rallying, continue to do what we've been doing. That's what Ronde did on that play.
"Ronde had been disguising the entire game off the slot. Disguising when he's blitzing, setting up his moves, setting up his zone drops. On that particular play, he slid in there, he faked and Donovan didn't see him. He picked off the slant and it was sweet music running down that field."
---
Ira Kaufman launched his full-time NFL work in 1979 as a beat writer for the New York Giants. That's right, nineteen freakin' seventy-nine. The Sage of Tampa Bay sports joined JoeBucsFan.com in July of 2016. He can be seen on Tailgate Sunday during football season on FOX-13, and he's a Monday regular year-round on BayNews 9. You can also hear Ira twice-weekly on the wildly popular Ira Kaufman Podcast, and he's a national star on SiriusXM Mad Dog Radio Wednesdays at 5 p.m. from early September through the Super Bowl.