Opening Depth Chart Released!
August 6th, 2019
N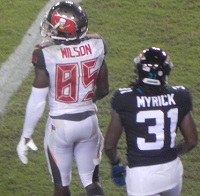 ow you can really smell the sweet fragrance of the 2019 preseason opener.
The Bucs' first depth chart of the year has been published.
And there is intrigue!
Bobo Wilson is listed as the No. 1 punt returner and kick returner. Friday night could represent his best shot to make the 53-man roster. Once upon a time Kenny Bell dropped a preseason kickoff return and basically was never heard from again in a Bucs uniform.
Rookie Mike Edwards and Jordan Whitehead are the starting safeties. Man, the Bucs are young there. Edwards and Devin White are the only rookie starters listed on either side of the football.
Cairo Santos is listed as the No. 1 kicker, which is interesting. Will Gholston, Ndamukong Suh, Vita Vea and Carl Nassib are listed as the defensive linemen.