Day 10 Bucs Practice News, Notes & Nuggets
August 6th, 2019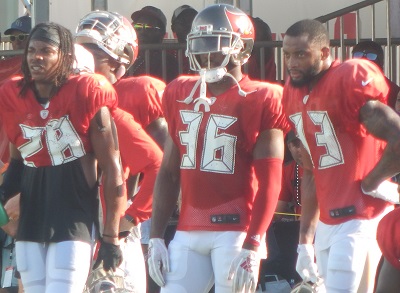 The fans packed the bleachers on this sunny Tuesday afternoon to watch the Bucs practice in full pads after only being in shells yesterday. Manbeast JoeBucsFan.com intern Zach Seifter spent the session working his notebook so you don't miss the action. Enjoy!
*Position groups start on individual drills as the RB's trot over to the quarterbacks to get this practice started.
*RB's take off and now it's the TE's getting work in with the QB's.
*Skill players head over to Field B for 1-on-1 drills. On one end, it's TE's and RB's lining up against LB's and safeties. On the other end, it's WR's vs CB's.
*Peyton Barber lines up against Carl Nassib. Barber puts a slick inside move on Nassib and beats him over the middle for an easy completion.
*For the second day in a row, rookie fourth-round pick DE/LB Anthony Nelson is not practicing. Joining him today is rookie safety Mike Edwards.
*Devin White lines up against O.J. Howard and blankets him the whole way. Howard breaks outside though and a perfect throw from Vincent Testaverde is enough to beat White.
*On Field A, it's lineman drills with Will Gholston against Donovan Smith. Gholston beats him inside with a swim move. Nice hand work shown by Gholston.
*Alex Cappa faces off against Vita Vea. Vea pushes hard to move past Cappa but goes to the ground against the right guard! Vea is slow to get off the ground and is limping. (See the scary story on the home page)
*The linemen move to Field B and once Vea gets there he goes to the ground to get his legs stretched out by trainers. He then walks over to the locker room.
*11-on-11 work begins and Jameis Winston runs a play-action fake that results in an easy completion downfield to Antony Auclair.
*Blaine Gabbert comes in and on his first play he gives an inside handoff to Andre Ellington. Ellington finds a wide-open hole on the left side and takes off down the sideline for a huge gain!
*Now with the third-team offense, Ellington has another strong run to the right side for first down yardage.
*On the next play, Ryan Griffin runs a play-action fake and moves to his left side. He finds Justin Watson open along the sideline and hits him for 20 yards.
*Another rookie out today. CB Jamel Dean misses practice once again. Following practice, Bruce Arians says its a "hip flexor."
*Jameis back in now. Heavy pressure comes on his first play and he sees Howard facing 1-on-1 coverage on the left side. He heaves it to Howard, who makes a move around Deone Bucannon to come back and make the catch on the underthrown ball.
*On the next play, Jameis goes DEEP to Breshad Perriman along the right sideline and hits him for a 35-yard gain.
*Jameis goes deep again! This time it's to Mike Evans down the right sideline. Jameis underthrows the ball just a bit and M.J. Stewart, who had excellent coverage, slaps it away.
*RG4 (Ryan Griffin) in now. He faces a bit of pressure and steps up into the pocket, then delivers a dime to receiver Matthew Eaton! Eaton makes an incredible diving catch past defensive back Mazzi Wilkins.
*Time for the kicking competition. After two straight practices of Matt Gay stealing the show with long-distance field goals, it's Cairo Santos' turn to kick today. And Santos doesn't miss. His longest make of the day came from 53 yards.
*7-on-7 work gets going and Jameis immediately goes deep to Evans. The Pro Bowler is well covered by Carlton Davis but soars up to make the grab as he falls to the ground! 40-yard gain.
*Gabbert comes in and goes to his check downs for the most part. Arians is certainly stressing how important it is to check the ball down.
*Jameis comes back and he floats a ball down the middle to an open Perriman. Jameis having another strong practice.
*Jameis goes deep again! This time it's to Justin Watson over the middle for a 40-yard gain. Winston underthrew it a bit, but Watson was so open he was able to adjust and still easily make the catch.
*The DB's just don't seem to be flying around today like they have in past practices. Could it be that Jameis is playing that much better than last week?
*Time for 11-on-11 work again.
*Barber gets the call and finds daylight along the left sideline! Big gainer.
*Devin White comes in with pressure as he forces Jameis out of the pocket. Jameis makes the smart play and throws the ball at the ground.
*Justin Watson with a splashy play! He lines up 1-on-1 with rookie Sean Murphy-Bunting and Gabbert delivers a pinpoint throw over the shoulder for a 20-yard gain.
*Jameis comes in and is rushed off the edge by Shaq Barrett. Jameis makes a quick move and then jumps inside the pocket. He finds a hole, bounces out, and takes off for a 13-yard gain and a first down. Excellent athleticism shown by Jameis on that play.
*Second-team offense starts their first drive at the 35-yard line. On 1st and 10, RoJo gets the ball and takes it 3 yards up the middle.
*2nd and 7. Gabbert hands it to Dare Ogunbowale, who is stopped at the 37-yard line for a 1-yard loss.
*3rd and 8 now. Vernon Hargreaves is yelling words of encouragement at the second-team defense. Gabbert gets the snap and looks for Watson past the markers but throws it just out of his reach.
*Third team in. Easy three-and-out for the defense.
*Second team is back: 1st and 10 at the 39-yard line. Gabbert runs a play-action fake but is sacked by 56 for a 6-yard loss.
*2nd and 16 now. It's a handoff that goes for 5 yards. One of the Bucs assistant coaches slams his marker on the ground after the play.
*3rd and 11: Gabbert goes to the left side to Justin Watson and the catch moves the chains.
*1st and 10. Ogunbowale gets an inside handoff and again is stopped for no gain.
*2nd and 10. Gabbert is pressured but flips it to Antony Auclair in the flat. Auclair goes 9 yards to force a short third down.
*3rd and 1. Barber gets the carry and takes it 2 yards up the middle for a first down.
*1st and 10 at the 34-yard line. Gabbert runs a play-action fake but sees nothing open so he throws the ball at the ground.
*2nd and 10. It's a draw to Ogunbowale. He's wrapped up by Emmanuel Smith and Ogunbowale shoves him. A small fight breaks out before the 3rd down play.
*3rd and 11. The flag is thrown for offsides to set up a much more manageable 3rd and 6 at the 30-yard line. Gabbert tries a back-shoulder bullet to Bobo Wilson inside the 5-yard line but Stewart gets his hand in to break up the pass and force a field goal.
*From 48 yards out, Santos completely shanks the kick, sending it wide left and short.
*It's finally time for the first team offense and defense to face off. This time it's red zone work. Jameis takes the snap and finds Howard open in the end zone and hits him, but Jordan Whitehead comes in and slaps out the ball to force the incompletion.
*3rd and goal at the 4-yard line. Jameis again looks for Howard and hits him in the end zone. This time he holds onto the ball for six points.
3rd and goal at the 2-yard line. Shaq Barrett flies in unblocked off the edge and gets the "sack."
3rd and goal at the 7-yard line. Shaq Barrett again flies in unblocked but Jameis moves to his right and hits Cameron Brate in the end zone for the TD to end practice!
---
WATCH EVERY Bucs road game this season with Ira at Buffalo Wild Wings! The fun starts Friday, when Ira will be in Wesley Chapel with about 20 gift cards for fans (while supplies last).