Not Lost In The Trenches
August 23rd, 2019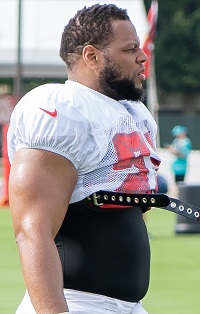 With all due respect to the two sacks notched by reserve and feisty defensive lineman Rakeem Nunez-Roches, the play of Ndamukong Suh on the Bucs defensive line was very encouraging tonight.
If someone finds Carl Nassib, please let him know.
Joe was very pleased to see how active Suh was all through the first half. The pursuit was consistent, and his strength was evident. He didn't look like Chris Baker  like a free agent just here to collect a check. And the pass-rush pressure showed up. He definitely changed at least a couple of passes.
Yeah, his late hit on Baker Mayfield that kept a Browns drive alive was stupid. But it was at least a somewhat borderline and Joe believes it was more from effort than anything else.
The defensive backs were the stars of the Bucs defense tonight, but Joe is feeling very good about Suh as he closes his preseason. There's no doubt he was sit for the preseason finale on Thursday.
Nassib, however, doesn't look like the same player he was last year, or like a guy playing for a fat contract.
Of course, it's early, and there's plenty of time for guys to show up when it counts — or not show up.