Mission Accomplished
August 9th, 2019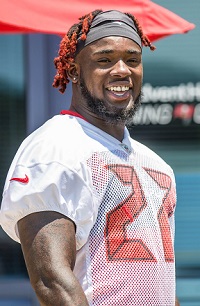 Operation Revive RoJo has moved on to Phase 2.
Yes, Ronald Jones looked like an NFL running back tonight in Pittsburgh.
Four carries for 18 yards. Jiminy Christmas! That's improvement. Consider that RoJo averaged less than one yard a carry last preseason.
First, Joe loved, loved, loved that Bucco Bruce Arians sent a message to RoJo by running him out as the kick returner to start the game. Joe is confident that was a way to get RoJo's head in the game in a hurry.
Rojo was untouched on his first run until he got to the second level. Seven yards. Then he darted for 6 yards and showed a bit of his quickness. His third run churned for eight yards over right guard before his night ended on a three-yard loss. Evan Smith got totally blown up on the stretch play and Mark Barron shot in for the tackle.
Build on this, RoJo.
Joe hasn't been this happy about four carries in a long time.