Jamel Dean, The 5 Percent & A Hall Of Fame Endorsement
August 20th, 2019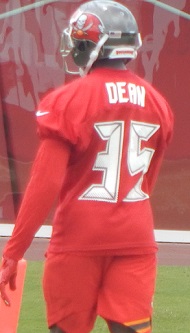 Legions of Bucs fans far and wide are all hot in the pants for rookie cornerback Jamel Dean after his interception and near interception Friday against the juggernaut Dolphins.
Dean has been finding all kinds of love over the past week, even before the pick.
The 94th overall selection in the 2019 NFL Draft was bogged down by injuries in high school and college and finally completed two football seasons on the field for Auburn before jumping into the draft.
Bucco Bruce Arians was absolutely smitten, in part because of Dean's toughness, so he told the Ira Kaufman Podcast.
"Jamel, you know, he played the whole year with a broken hand and a big cast on his hand and he's playing bump and run, so I know he's got heart," Arians said. "And whether or not he could catch I didn't know until we got that cast off."
Well, now we really know he can catch.
This week, Greg Auman of pay-per-read The Athletic penned an 1,800-word feature that dove deep into Dean's knee injuries and how he had to fight bad medical advice, as well as rehabilitation.
He had surgery over Christmas break as they instructed, but less than a week into classes at Ohio State, the school's trainers medically disqualified him, telling him they did not think his knee would recover enough for him to play.

"I think about it all the time because once a guy told me I had a 5 percent chance of being successful in football," Dean said after being drafted in the third round by Tampa Bay in April. "It's always been on my mind ever since I got to college."
Last week, Ronde Barber shocked the world and said "Dean looks unlike any corner I've ever seen. Big back, long, and he can run [a 4.24 40-yard dash] That's, like what, I don't know what that is. I don't know what that is."
All that's left for Dean is to beat out Carlton Davis, his fellow teammate at Auburn. Joe is pulling for Dean to win that battle; he seems to have the greater upside. It won't look good for the Bucs' draft selections in the secondary, but that's sort of the norm around these parts.