"We Need A Half"
August 20th, 2019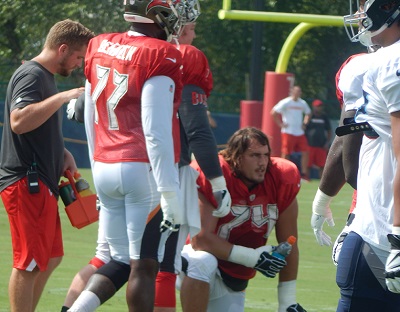 Joe would expect hungry football players to be eager to play at all times.
Still, this is interesting.
Bucco Bruce Arians talked after practice today about the challenging balance of playing starters in preseason games to get them ready for the regular season. Reps are good; injuries are not.
Arians has admitted that for him the decision is more urge and feel during a game than anything else. Today, he told reporters he sought the opinion of his veteran offensive linemen to gauge their interest in banging during Friday's meaningless game against the Browns.
The answer surprised Arians, he said.
"It's odd because I went to the offensive line, I said, 'How much do we need to play?' They said, 'We need a half.' I said, 'I don't think you do. We'll see about that.'" Arians said. "But, they wanted to play a half to get into a little bit more rhythm. It's a catch-22. It always has been and always will be. It's just like going out and tackling in practice – you've got to do it and you've just got to hold your breath that nobody gets hurt."
So the offensive feels it needs a half of work to be ready for the 49ers on opening day at the Den of Depression. Well, if the linemen really believe that, then Joe would give them the snaps.
The biggest issue with the O-line over the past couple of years has been mentality. They're talented but they trend too soft. Priority No. 1 for Arians should be to get these guys playing angry. Perhaps they sense a need to push themselves harder?