"I Hope Ali Marpet Busts His Chin Open"
August 15th, 2019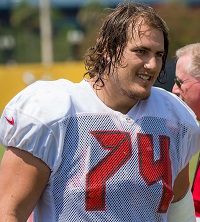 The hype already is building for the Gerald McCoy Bowl, Week 2 in Charlotte on Thursday Night Football.
Joe can't wait.
Former Buccaneers guard Ian Beckles is hoping pain is among the festivities.
That's what he told the WDAE-AM audience this evening. "I hope Ali Marpet busts his chin open," Beckles said, adding that he planned to talk to Marpet personally in an effort to ramp up Marpet's intensity.
It was brought to Beckles' attention on the air that his beef with McCoy sounded personal, and Beckles said it is. Why? Because McCoy disrespected the Bucs with his post-release chatter.
Beckles lauded Warren Sapp's recent comments that McCoy crossed a line when he hopped on national television and lumped himself in with Bucs legends from the glory years. After the Bucs cut him, McCoy joined FS1 for a lengthy conversation about his departure from Tampa and his future. Sapp contends McCoy shouldn't be in the same breath as other Buccaneers Ring of Honor members.
As for Bucs offensive linemen getting jacked up to play against McCoy, Joe can't even go there.
If this entire Bucs team isn't fired up to play every snap against anyone in Week 2 on national television, then they are a sorry band of losers.
Beckles firmly predicted that McCoy will not finish the 2019 season in one piece.