"I'm One Of The Best Players To Ever Play In The Organization"
June 19th, 2019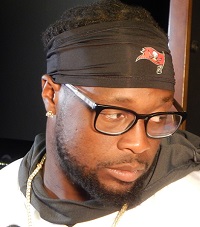 Gerald McCoy feels disrespected by the Bucs and he wants everyone to know it.
Why else would the guy jump on national television for a tell-all style interview when little else is happening in the NFL world?
"It's Tampa Bay, you know, and I'm one of the best players to ever play in the organization. I'm going to say it. Usually I wouldn't, but I'm gonna say it," McCoy told the FS1 audience this morning.
McCoy trumpeted his greatness when expressing his disappointment that Ndamukong Suh was given his number. And the fact Suh signed a one-year contract made it worse, per McCoy.
"It kind of shows the respect and how they feel about me. I think it does," McCoy said, noting guys like Ronde Barber and John Lynch had their numbers formally or informally retired when they left the Bucs.
The respect for McCoy wasn't there, he claims. "That was a big part of the separation between me and Tampa period. All offseason, it just wasn't there."
McCoy moaned about how coaches didn't call him after they were hired, and he put Jason Licht in the non-communicative bunch. Joe's first thought was, 'Ok, how bout you pick up the phone, Gerald, and call the new head coach and D-coordinator — you know, the kind of thing a team leader would do.'
Odd on both sides. They're both to blame for any friction.
Strangely enough, McCoy said the Bucs made him an offer to return, one he declined. He wouldn't call it a pay cut or a restructure. "A little bit of both, not really technically restructure."
You can watch the full McCoy interview below: