Heading Indoors
August 31st, 2019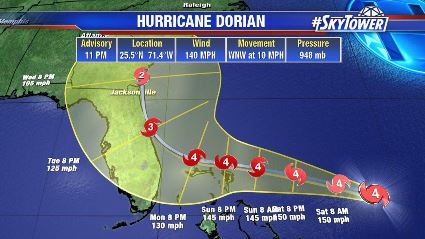 As of 11 p.m. last night, the Tampa Bay area was still very much in the Cone of Uncertainty as Hurricane Dorian strengthens in the Atlantic Ocean and barrels towards Florida's east coast. Brevard County ordered a mandatory evacuation.
(Initial projections had Hurricane Dorian traveling right over Joe's house. SOB!)
And while the storm appears to be taking a right turn as it hits Florida and then races up I-95 to sideswipe the east coast, anyone who has spent any time in Florida knows how unpredictable these damn things are.
And with the Bucs starting prep for Week 1 of the NFL season and hosting the 49ers a week from tomorrow at the Den of Depression, how the team handles this massive distraction seems unclear.
For the time being, Bucs coach Bucco Bruce Arians plans to keep the Bucs in town and simply move practices inside the Glazer Shed.
"I talk to 10 people, I'm getting 10 different things – Monday night, Tuesday, Wednesday," Arians joked about trying to figure out the storm. "It's just play it by ear and I don't think it's going to affect us in any way other than we'll be practicing inside with a lot of noise and be ready to go."
Two years ago when Hurricane Irma hit, Team Glazer graciously evacuated the team out of state so the Bucs and their immediate families could be safe.
If the Bucs decide to evacuate this year, Joe really hopes they head to Clemson and work out there so the front office can get a serious head start on scouting for the 2020 draft.
Maybe if the team trains at Clemson for a few days, the braintrust of the Bucs might have an epiphany and realize having a good running back won't ruin a team.
Travis Etienne is GONE!

9️⃣0️⃣ yard TD run, tied for the longest run in @ClemsonFB history! pic.twitter.com/OwFju0vqRJ

— ACC Network (@accnetwork) August 30, 2019