"He Has A Major Role Right Now"
August 18th, 2019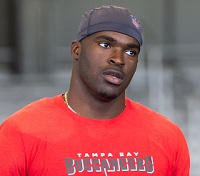 Breshad Perriman has been down this road before. Like he's been this spring and summer, Perriman was a standout of the Baltimore Ravens' 2017 offseason.
Later that year, though, he was a healthy scratch before the Ravens waved goodbye to their 2015 first-round pick.
After a hot spring of 2017, Perriman was on the rise and ready to settle into a No. 3 receiver role, when he previously had struggled as an outside No. 1 or No. 2.
"You can just see the confidence in his eyes," Flacco said at the time. "That's the first thing. Then when you go out there, it's kind of back to how I felt probably the first couple of practices his rookie year, when he was running by people, and you can tell he had something. He's back at that level, running, and his confidence is at an all-time high. He's out there playing, man. It's exciting to see."
Perriman finished 2017 with 10 catches. The Ravens cut him after their 2018 preseason.
Following flashing in Cleveland last year, Perriman was back on the market and is now a top dog in the eyes of Bruce Arians, who raved about him after practice today and said, "he has a major role right now."
In many ways. Perriman is in old but new territory. He's had big roles and expectations put him, but he's hasn't thrived when that's been the case.
Perriman and the Bucs are an interesting marriage. He's the Bucs' clear No. 3 receiver and they will rely on him, potentially a lot. But if he plays well and becomes a consistent threat, then he'll become an expensive free agent in March. Meanwhile, the Bucs will be paying Mike Evans a ton, lining up to open the vault for Chris Godwin, and Jameis Winston will get a raise while the team likely will need a pass rusher. Also, if Vernon Hargreaves thrives, he's on the 2020 books for a fat raise.
Joe hopes Perriman thrives, but if he struggles, Joe sure hopes the Bucs move quickly to play/develop their younger receivers to see what they really have.