Deep Ball Blues
August 23rd, 2019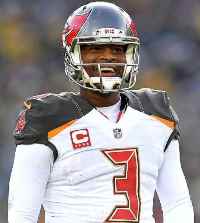 Yes, the Buccaneers' pass protection tonight collectively looked like a drunk trying to walk a straight line.
But there were times America's Quarterback, Jameis Winston, had time for deep shots and he took them.
And they went about as well as they did with DeSean Jackson. Jameis was off on his deep shots to Breshad Perriman, who is supposed to be the premier deep threat on this team.
On the first attempt, Perriman didn't adjust well to the ball or didn't attack it, or Jameis underthrew it. The next two were rough throws. Those watching on TV saw Byron Leftwich looking pissed at Jameis after the final deep throw with just under two minutes remaining in the first half. And Ronde Barber on the broadcast called it Jameis' first bad decision of the game because he needed to extend the drive and O.J. Howard was open underneath. Barber also said Jameis needs significant work on his deep ball.
Yeah, it's preseason. But the Bucs — and Jameis — dropped a freaking goose egg on the board at home in their "dress rehearsal" preseason game. Certainly, it's not Jameis' fault alone. But tonight's offensive failure is a great (scary?) example of how the quarterback likely will take the fall in his contract year if this crap happens during the regular season.
It appears Bucco Bruce Arians has a full plate of work ahead to get his Bucs offense off to a fast start. And based on tonight's first half, that will include a healthy share of quarterback whispering — even if that's just helping Jameis keep calm in the face of relentless pressure.