Bruce Arians: Jameis Still Learning In The Red Zone
August 27th, 2019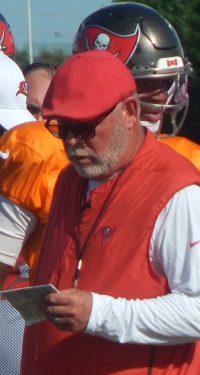 Opening day is in 12 short days, and Bucs fans might want to dial back their 2019 expectations for a huge offensive explosion, especially after hearing Bucco Bruce Arians on national radio yesterday.
The head coach usually is flowing with effusive praise for America's Quarterback, Jameis Winston. But that wasn't the case yesterday.
CBS Sports Radio host Tiki Barber noted on the air that Jameis screwed up in the red zone against the Browns, and then Barber served up an open-ended softball to Arians. "Where are you with Jameis Winston?"
"I'm fine," Arians replied.

"I mean, I think it's still in the learning process in those [red zone] situations. You know, he hangs on some touchdowns; he's got some [receivers] that can win. And he kind of hangs on them a little bit too long instead of just taking the underneath. That one in the red zone, you know, we had an empty set and he thought that post was going to come open and he missed the underneath throw to get the first down. So he ends up sacking himself. Those things I think are just growing pains."
The "I'm fine" response made Joe take pause. There was almost a tiny hint of exasperation in Arians' tone.
As for Jameis being in a learning curve with his new coaches and scheme, Joe gets it and expected it. Still, Jameis is missing on basics that were drilled into him by his previous coaching staff. That's a little concerning with a veteran quarterback so close to opening day.
Next up, the 49ers before a home crowd that's absolutely aching for a victory and won't accept anything less.