About To Blow Up
August 27th, 2019
Kay Adams is in love.
The It Girl of NFL fans admits it. Tthe fetching co-host of "Good Morning Football," seen weekday mornings on NFL Network, is nerding out over Bucs wide receiver Chris Godwin. Granted, this is about fantasy football but Adams' comments about Godwin ring true in real football as well.
Adams noted that given Godwin's history and how often Bucs coach Bucco Bruce Arians has suggested Godwin could be targeted this year, that all adds up to Godwin having a monster breakout season.
And the "Good Morning Football" crowd had a way cool stat. Whenever Godwin started last year in place of malcontent receiver DeSean Jackson, Godwin tore up opposing defenses.
"It's hard not to fall for a guy," Adams explained about a receiver who is expected to be targeted as often as Godwin is this year.
So Adams is smitten with Godwin, eh? Lucky SOB!
You can watch Adams' take below.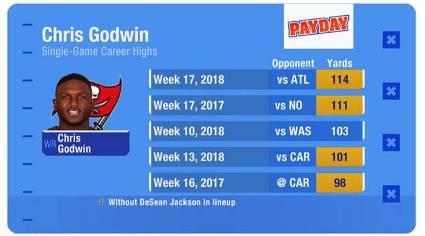 Which WR is @heykayadams all in on this season?

⬇️⬇️⬇️⬇️#WhatTheFantasy?!? | @NFLFantasy | #FantasyFootball pic.twitter.com/OrnNTGjg7e

— GMFB (@gmfb) August 26, 2019