Better Defense = Better Jameis
August 9th, 2019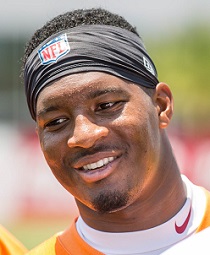 In the mind of a well-respected NFL scribe, in looking to improve America's Quarterback, Pro Bowler Jameis Winston, look to the other side of the line of scrimmage.
NFL writer Mike Sando of The Athletic recently held a Q&A on his site. There, Sando talked about Jameis' ceiling. In so many words, he said it's simple: Fix the defense and watch Jameis improve.
Robert G.
What's the best case scenario for Jameis Winston in Tampa?

Mike Sando
Best case is that [Todd] Bowles comes in and that defense goes to middle of the pack or better. People forget that when Bruce Arians won with Carson Palmer in Arizona, the Cardinals were good on defense. The Bucs have been horrific. Defensive improvement, which is a realistic expectation, would mean the Bucs could ask less from Winston. From there, best-case scenario is Winston clicking with the new coach, Winston taking well to some hard coaching, Arians quietly restoring some balance to the offense (helped along by an improved defense), and Tampa surprising within the NFC South, maybe getting to 9-7.
Joe has been screaming about this for years. Disgraced former Bucs defensive coordinator Mike Smith didn't just get Dirk Koetter (and many others) fired, he may have paved the road to run Jameis.
Think about it: Imagine if Jameis only needed to score 21 or 24 points a game… instead of 45? Running him off would only be discussed by the avowed haters.
Now Koetter should share blame for retaining Smith after his 2017 debacle. So too should the entire organization. Someone above Koetter should have grown a pair after 2017 and told Koetter unless he gets rid of his good friend, then someone else will.
Keeping Smith was an organization fail from Koetter right up to the family that cuts the checks.
It blows Joe's mind to ponder how many years this franchise has been set back and how many careers were blown apart by the ineptitude of Smith2.