"You Can Feel Some Hits Sometimes"
July 26th, 2019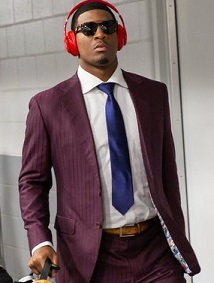 America's Quarterback, Jameis Winston, is having great fun with his new toy, so he told Joe yesterday at One Buc Palace.
Head coach Bucco Bruce Arians swears by the value of virtual reality technology, so he explained on Arizona sports radio in great detail. His Cardinals quarterback Carson Palmer, at age 36, got into it under Arians, and Arians says it overhaule changed his career for the better — in a big way.
That same STRIVR technology Palmer used religiously was brought in rather quickly for Jameis upon Arians' arrival in Tampa.
The Cardinals added STRIVR in 2015, the same year the Bucs added the competitor Sidekiq. So Joe wondered whether the Bucs simply bought the wrong software four years ago, or whether their former coaching staff didn't understand its value. Or both?
Regardless, Jameis said yesterday he is pumped up about the new technology and he's feeling its effects — literally.
"I think it's awesome," Jameis said. "I think STRIVR is doing an excellent job. They now have a more accessible system where you can just, literally I had it at home with me, and it's good. You just don't have to be up here all day and use it. But it's great. It's very unique to see how the game is changing to this virtual way. You actually can be in there. You got guys flying all around you and you can feel some hits sometimes. It's pretty cool."
Joe sure hopes it helps. One would think it could only be positive, though Arians has called Jameis a "workaholic" multiple times, so perhaps having another 24/7 learning tool at home could be a challenge to manage. Turning off can be a good thing.